Tooth-Colored Restorations (Fillings)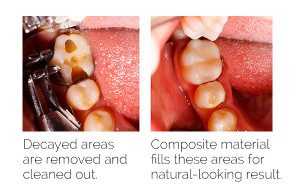 Have you put off getting fillings for those pesky cavities? If a natural-looking smile is important to you, the staff at Premier Dental Center can repair and restore your teeth with tooth-colored fillings, inlays, onlays, crowns and veneers that when placed look just like your teeth.
Also known as dental fillings, tooth-colored restorations are a way to help stop tooth decay from causing sufficient damage to warrant a tooth having to be pulled.
Made of a complex composite of plastic and zirconia/silica, tooth-colored restorations bond to your tooth, helping prevent any filling leaks or chances of any cracking or breaking of the tooth.
They also feel, look and function like your natural teeth, and are ninety to ninety-five percent as strong as a healthy tooth; whereas silver fillings are only forty to forty-five percent as strong.
When your decayed tooth needs more than a filling but less than a crown to repair it, Dr Vu and staff will use either an inlay or an onlay to bring your tooth back to a healthy state.
---
To setup an appointment for tooth-colored restorations, or to get more information, use the contact form below. You can also click to call at: (360) 380-4553
[contact-form-7 404 "Not Found"]