Dentures
When considering Dentures, keep in mind there are a few different options. If you have several teeth missing from different areas of your upper or lower jaw, a partial denture can restore your biting and chewing abilities, bring back a beautiful smile, and retain the shape of your mouth. Partial dentures can be either fixed or removable, and can be designed to use adjoining teeth as support, or be secured by dental implants – which are titanium screws that are permanently placed in your jawbone. A full denture is needed if all of your teeth have been extracted; the prosthesis that replaces your teeth can be conventional removable dentures or implant-supported dentures.
Removable Partial Dentures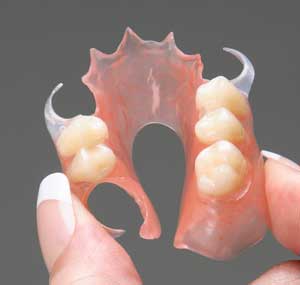 If several teeth are missing in either your upper or lower jaw, a removable partial denture that is supported either by adjoining teeth or by an implant can be used to replace the missing teeth. This gives you the ability to chew more naturally, keeps your remaining teeth from moving into the space left by the missing teeth, ensures proper jaw alignment, and supports the structure of your face.
A removable partial denture is either held in place by clasps that hook on to adjoining teeth or by securing to the abutment of a titanium screw that is implanted in your jawbone. Partial dentures are easily removed for brushing and cleaning.
Complete Dentures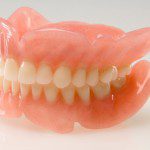 When all of your permanent teeth need to be extracted from either your upper or lower jaw because of decay, periodontal disease or trauma, complete dentures are created in a dental lab to replace your missing teeth. Over time, dentures can loosen because of the loss of gum tissue and jawbone that deteriorate when they no longer have tooth roots to keep them stimulated.
This can result in the use of dental products to keep them adhered to your gums. The other option is to have your dentures secured with implants that are placed in your jawbone and, through a process called Osseointegration, take the place of a tooth root. In either case, your dentures are easily removable for cleaning.
---
To setup a free dentures consultation or to get more information, use the contact form below. You can also click to call at: (360) 380-4553
[contact-form-7 404 "Not Found"]